Key Takeaways:
Evaluate your hair type and desired vibe before choosing a wedding haircut.

Research styles, accessories, and products and discuss them with a stylist.

Prepare and maintain your hair leading up to the wedding, and consider accessory options to complete the look.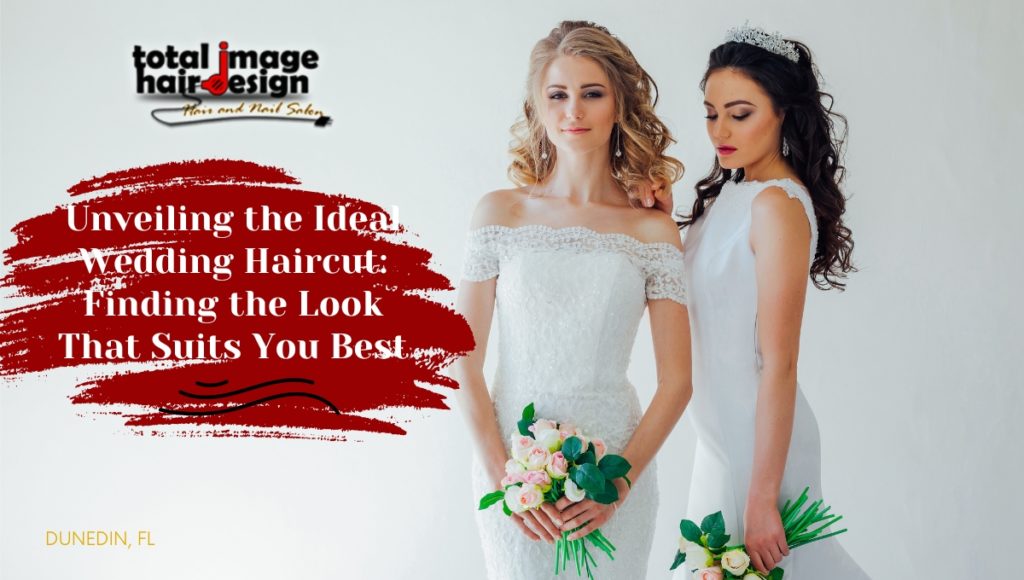 Unveiling the Ideal Wedding Haircut: Finding the Look That Suits You Best
Every bride wants to look their best on the most important day of their life. A key part of this is finding a wedding haircut that will do justice to your features and unique style, as well as give you the confidence that you need to look and feel your best on the big day. Choosing the right wedding haircut is one of the most important beauty decisions you will make, so it's essential to take the time to ensure that you are happy with your choice. To help make the process of finding the perfect wedding haircut easier, consider the following factors and advice.
Evaluating Factors
When you are beginning to think about the right wedding haircut for you, there are a few important factors to evaluate. The first is your hair type. Whether you have short, medium-length, or long hair, there are a variety of hairstyles to choose from. Different brooch or hairstyles can suit different face shapes and hair textures. Understanding the characteristics and structure of your hair is a great place to start.

The next step would be to determine the type of hairstyle that you would like. Some brides desire an elegant updo, while others may want to keep their curls or waves for a more laid back look. Think about the part of your hair that you are comfortable with, if you plan on wearing a veil, and how much time you want to spend on your hair before the wedding. Also consider the season of your wedding and the type of dress you will be wearing.

Other considerations include whether you have a large bridal party, since some hairstyles are better suited for larger groups. Additionally, work with your hairdresser to determine whether a short, traditional, or vintage hairstyle is the right choice for you. Finally, most importantly think about the type of wedding you are having and the vibe you want your look to project on your big day.
Steps for Finding the Perfect Wedding Haircut
Now that you have established the type of hairstyle you are looking for and the elements that your wedding haircut needs to fit, it is time to find the perfect hairstyle for you.

Begin by researching different hairstyles that fit the desired look. Consider creating an inspirational board of the front and back side of hairstyles that you like, as well as feature accessories that might work for the look. This will give you and your stylist a great starting point in finding the right style for you.

When you find a few hairstyles that you like, have an honest conversation with your stylist about your likes and dislikes. There are some hairstyles that can seem like a great fit, but when taken into account with the other elements of your wedding day, may not be the best choice. That's why it's important to discuss your desires and the overall vision of your wedding look.

In addition, it is important to make sure that you are choosing a hairstyle that works with your individual features. Apply what you know about your face shape, hair structure, and desired vibe for the day to narrow down your choices. Discuss possible variations that might work better for your hair type.

A great way to decide on the perfect wedding haircut is to get a trial run. Doing a trial run a couple of weeks before the big day will give you the chance to make sure the style is going to work perfectly. This is also a great time to discuss accessories and go over the different products you will need to maintain your hair throughout the day.
Tips for Achieving the Perfect Wedding Haircut
Once you have chosen the best wedding haircut for you, there are a few important tips to follow to make sure that the look will be picture perfect on your big day.

To start, dedicated time to preparing your hair for the style. This may involve deep conditioning, treatments, and various other styling activities days before your wedding. Work with your stylist to determine the exact pre-event routine for achieving optimum results.

There are a number of quality hair products out there and it's important to use the right materials to achieve the desired look. Make sure to ask your stylist which products to use and how to use them. This may vary depending on the individual elements of your hair, and taking a proactive approach to shampooing and conditioning can help optimize the results.

Finally, consider talking to your stylist about accessory options. Accessories such as barrettes, clips, and pins can help bring any wedding look up another notch, so it's important to decide on these during the trial run. A multitude of accessories are available, so make sure to discuss with your stylist what will best accentuate your chosen style.
Conclusion
Finding the perfect wedding haircut is an important step in creating an unforgettable look for your big day. It is important to find a style that works with your individual features and desired vibe, as well as something you are comfortable with. Taking some time to properly evaluate the important factors, finding hairstyles that are the right fit, discussing with a stylist what best works for your hair, and preparing your hair appropriately, are all important steps that will help you achieve the perfect wedding look. Staying within your personal style will definitely help you look fashionable and fresh on your big day.

For all of your wedding haircut needs, check out Total Image Hair Designs. Total Image Hair Designs is a hair and nail salon in Dunedin, Florida, with a team of experienced stylists who will make sure you look and feel your best on your wedding day. From updos to long curls, traditional or vintage styles, and any accessories you may need, Total Image Hair Designs is the trusted destination for your wedding hair.
References: