Key Takeaways:
Hair accessorizing is a way to add flair and individuality to a hairstyle and make it memorable.

Choosing the right pieces for the look is key, and start by adding one or two pieces to the style.

Consider trends, like sparkles, tiaras, and hair wraps, for the ultimate bridal look and make sure to properly set the look for lasting memories.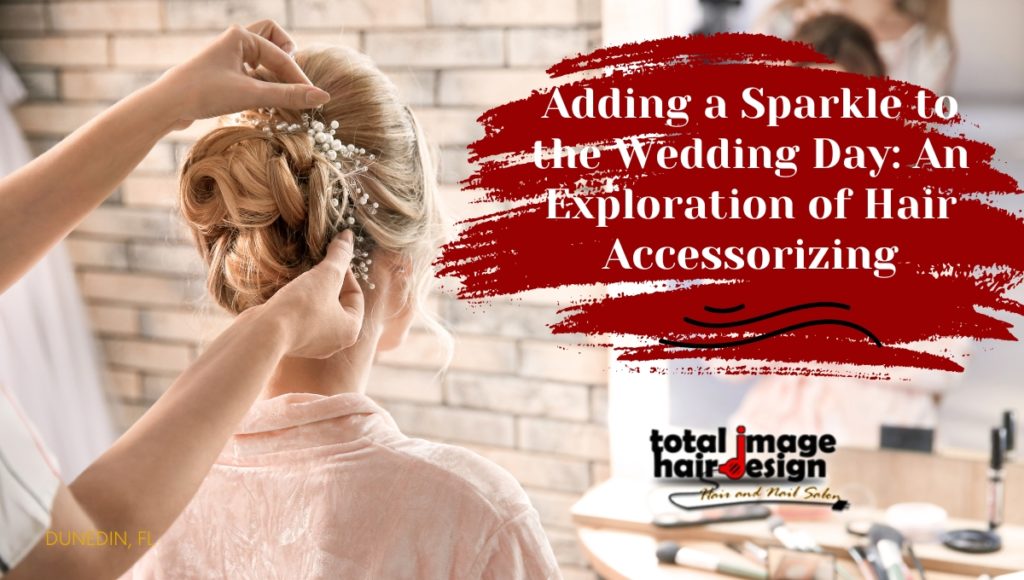 Adding a sparkle to the wedding day can transform a simple hairstyle into something extraordinary. Hair accessorizing refers to the process of adorning the hair with accessories to highlight and enhance the hair's overall look. These accents add a unique touch that can make any look stand out. In this article, we will provide an exploration of hair accessorizing and easy techniques for getting that perfect bridal look.
Introduction
When it comes to weddings, hairstyles today are much more intense than traditional up-dos or half-up styles. Hair accessorizing has become increasingly popular over the past few years as a way to take a hairstyle to the next level. Hair accessories are a great way to turn a basic style into something unique and memorable. A few strategically placed pieces can truly make a bride's look shine.

The term "hair accessory" refers to any item that is used to enhance or alter a hairstyle. This could include combs, tiaras, sparkles, clips, pins, flowers and other adornments. These pieces can be used to add a pop of color, volume, or texture to a bride's look. Along with giving the bride's style a custom touch, hair accessories can also be an expression of her personality.
Benefits of Hair Accessorizing
Hair accessorizing has many benefits for the bride. One of the significant benefits of using hair accessories is that it gives the bride the opportunity to customize her look and make it her own. Accessorizing can add a touch of personality to a hairstyle and instantly create a look that is truly unique.

Hair accessories can also be a great way to add some flair and individuality to a classic look. By adding some subtle touches, you can turn a basic updo into something special and memorable. These pieces can instantly transform any plain style into something sensational.
Getting Started
The first step to accessorizing is to choose the right pieces. When selecting hair accessories, the key is to think of the overall look you are trying to create. It's best to choose pieces that compliment the style and fit with the overall look of the wedding. Choosing the right pieces can take some experimentation, so be sure to give yourself plenty of time to play with different pieces before the big day.
Making the Look Your Own
Once you have chosen the right pieces for the look, it is important to make sure that the accessories are not overpowering. To achieve the perfect look, you should start with one or two pieces and build from there. You can take it as far as you want or keep it simple to make sure that the accessories don't overpower the rest of the look.
Techniques for Accessorizing
Once you have decided on the look and chosen the pieces, it is time to start accessorizing. There are several techniques that you can use to get the perfect look.
Combination Options
Creating a combination of pieces can be a great way to add some dynamic texture to a hairstyle. Combining pieces such as a headband, combs, sparkles and hair pins can create a unique texture and texture that will make any look stand out.
Adding Volume
Adding volume to a hairstyle is a great way to make it look more glamorous and elegant. There are many accessories that can be used to create volume, such as combs, clips and hair pins. These pieces can be used to create volume and hold it in place throughout the night.
Using Multiple Hair Accessorizing
Using multiple hair accessories can also be an effective way to create depth and interest in a hairstyle. Mixing and matching pieces can help create a vibrant and unique look. Try using headbands, sparkles, combs, and other pieces to create an eye-catching look.
Popular Accessory Trends
Another popular way to accessorize is to use some of the latest trends in hair accessories. Here we will look at some of the most popular accessory trends.
Hair Sparkles
Sparkles and glitter can provide a vibrant pop of color for any hairstyle. These pieces are great for adding some extra glamor and shine to a bridal look.
Unique Hairpieces
Unique and stunning hairpieces, such as tiaras, can make hair look like a million dollars. There are many ornate and intricate designs to choose from.
Hair Wraps
Hair wraps and scarves are a great way to add some color and texture to a look. They can be an extremely versatile piece that can be worn several different ways.
Finishing Touches
Once you have chosen the right pieces and created the perfect look, it is important to ensure that everything is properly set. This will ensure that the look lasts throughout the night.
Setting the Look
Once the look is in place, it is important to take the time to set it properly. Make sure that all of the pieces are secured and that the hairstyle is sturdy and will last through the night.
Making Lasting Memories
At the end of the day, accessorizing your hair is a great way to make memories that you will cherish for a lifetime. Adding a few noteworthy touches to your hairstyle often creates the most stunning and unique looks.
Conclusion
When it comes to weddings, there is nothing quite like hair accessorizing for creating stunning and unforgettable looks. Not only does accessorizing provide the bride with an opportunity to personalize her look, but it can also create some amazing memories that will last a lifetime.

If you're looking for the perfect bridal look, visit Total Image Hair Designs in Dunedin, Florida. Our experienced stylists will help you find the perfect accessories to complement your hairstyle and make your wedding day even more special.
References: