3 Key Takeaways:
Updos come in a range of styles with many possibilities, from braid styles to half-updos, for hair lengths from short to long.

Accessorize with headbands, combs, and jeweled accessories to add a boho-chic or classic, romantic vibe.

Finishing touches to an updo include using a shine or volumizing spray, using velcro rollers to create extra fullness, and using dry shampoo to provide a lift.
Introduction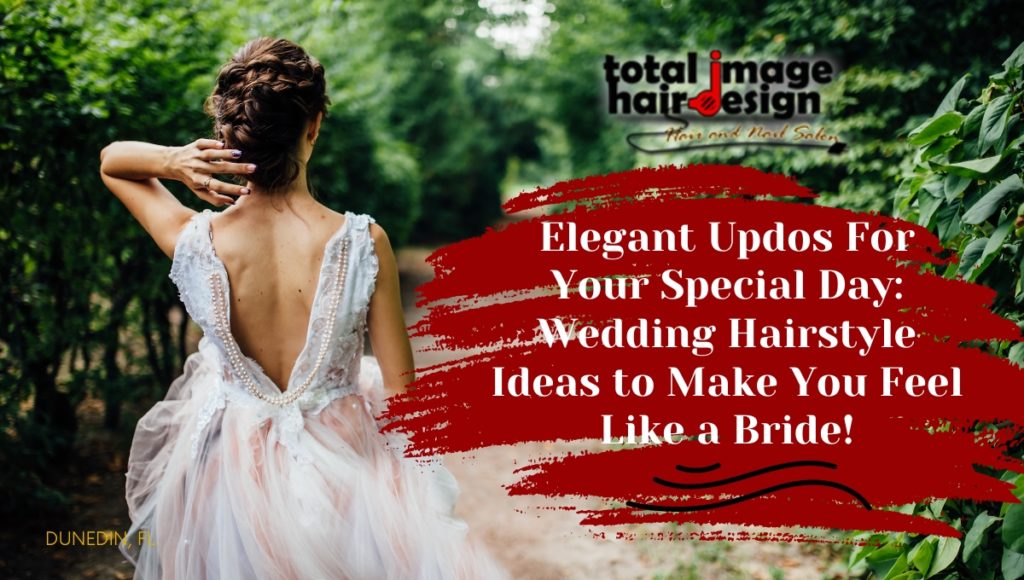 Getting ready for your wedding day should be a fun, memorable experience. Whether you're going for a classic bridal updo or something more modern, there are plenty of hairstyle ideas to make you feel like a bride. Before diving into tutorials, it's beneficial to have a grasp of what exactly updos are and why they're so popular for weddings.
Definition of Updos and Their Popularity
An updo is defined as a hairstyle where most or all of the hair is swept off of the face, braided, or pinned back and away from the neck, ears, and forehead. Updos can be worn with or without accessories, and depending on length, may require the hair to be curled. Updos look elegant, chic, and sophisticated, and are often featured on the runways annually.

Updos hug your face, enhance bone structure, and have an elegant, almost regal femininity. They are very beautiful and easy to maintain, and can easily transition from the wedding ceremony to the reception. Whereas classic updos will never go out of style, modern styles with playful twists can offer a modern spin on the traditional beauty of an updo.
Overview of Available Styles 
Updos come in a range of styles with endless possibilities, so you are sure to be able to find one that suits your specifications and desired look. Depending on length, texture, and desired look, options range from braid styles, half-updos, braided updos, hair bows and curls, chignons, pinned strands, fishtails, barrel curls, and many more.
Step-By-Step Tutorials 
No matter the length, there is an updo suitable for your wedding day. There are detailed instructions for hair updos for all lengths, from short hair to long hair.
Detailed Instructions for Hair Updos for Short Hair 
Short-haired brides should opt for an updo that highlights volume and texture. Start with a volumizing mousse to get the hairstyle off to a good start and to make sure that it stays in place. Then, use the mousse to curl short sections of hair, combing them back and spraying them with a medium-hold hairspray. Pin each section back against the head and use a small brush to make a halo of curls. With a few simple bobby pins, secure the style to the head and around the face.
Detailed Instructions for Hair Updos for Medium Hair 
Blessed with mid-length tresses? Go for an updo that separates hair into two sections above the ears – one on the right side, and the other on the left side. Create a loose ballerina-style bun on one side, and drape the other section into a braid that wraps around the bun. Use accessory pins to keep the look together and incorporate a small hairpiece, clip, or pearl barrette to create a classic bridal feel.
Detailed Instructions for Hair Updos for Long Hair 
Long hair looks particularly elegant when incorporated into an updo. Start by separating the hair into three sections – left, middle, and right – and attach each section to the scalp with elastic bands. Take a section of hair that's near the base of the neck, and gather it into a neat bun at the crown of the head. Repeat the process with the other two sections of hair, wrapping the elastics around the bun at the crown and spraying with a medium-hold hairspray to keep everything in place.
Finishing Touches to the Updos 
Accessorizing with Jewelry and Headbands
To complete the look, use headbands, combs, and jeweled accessories. These range from glitzy headbands, to flirty floral or ribbon crafted pieces, and both are a great way to create a boho-chic style. Alternatively, go for a more classic and refined look with jewels and a tiara, both of which will give your wedding a timeless and romantic vibe.
Tips for Adding Volume and Shine 
Finish your style with the perfect touch of gloss. Use a shine spray to create an overall glossy look and tame any flyaways. Use velcro rollers around the face to give extra fullness and a cute and flirty factor. To boost the volume further use dry shampoo, which will also lift and separate curls to create an even more full-bodied look.
Conclusion 
Ladies, now you know that it takes a hand and a bit of finesse to create a show stopping updo on your wedding day. It's important that you find a style which showcases your features and suits the shape of your face.
Review of Techniques and Styles
From braid styles to half-updos, these tutorials provided detailed instructions for different lengths of hair. With these steps, you also got an overview of what accessories would look perfect with your hairstyle, and concluded with helpful tips on how to get the perfect amount of shine and volume.
Outline of Tips and Tricks for Perfecting the Updo 
When perfecting your bridal updo, it's important to pay attention to the little details. Use a volumizing mousse for short hair and secure the look with some simple bobby pins and a medium-hold hairspray. For medium hair, separate into two sections and use accessory pins to keep the look together. For long hair, separate into three sections and gather them into a neat bun. To complete the look, add headbands, combs, and jeweled accessories such as a tiara, and use a shine spray to achieve a glossy look.

If you're looking for the perfect place to get your wedding day hair and nails done, visit Total Image Hair Designs. If you're in Dunedin, Florida, you can trust that the talented professionals at Total Image Hair Designs have been voted the top hair and nail salon for over 30 years! They provide a full range of services to make sure you look and feel beautiful and confident on your special day.
References: