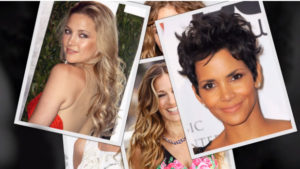 Getting a great haircut is essential to improving your appearance. Here are some of the best cuts for people with curly hair.
1. Pixie Cut
Halle Berry is one of the most popular celebrities with this style. She wears it longer on top to highlight the texture. This is a fresh look for those who want a style that is both feminine and carefree.
2. Afro
This style is flattering for both square or round faces. The hair is allowed to grow out in order to get volume and fullness for shaping to a teardrop shape rounded at the top. It is a classic, professional look for African-Americans.
3. Blended Bangs
Bangs can give a soft and wavy look to any style when combined with light layers on sides and in back. It is a perfect style for people with loose and wavy hair.
4. LOB
Long bobs look great on women with curly hair. This style requires a wedge cut and face framing layers around the face. Long layers have a slimming effect on round faces.
5. Curly Shag
Women with naturally curly hair can wear the shaggy look to highlight their coveted locks, but they often require extra care using products such as pomade or serum.
6. Long and Wavy Layers
This style can improve on the hair's natural softness and curly texture. Products such as spray gel can add texture.
7. Long and Curly Layers
Long layers add weight to curls and soften the look. A face framing cut adds to the softness.
8. Long Curls
Taylor Swift famously wears this attractive and trendy hairstyle. The side swept look is glamorous and the frizz should be controlled with products for maximum shine.
9. Tight Curls, Steep Layers
This style can be achieved by using the slide-cutting technique to enhance the layered appearance of curls.
10. Long Loose Waves
A good hair cut can make the most of curly hair texture and give you one of the most popular styles today. If you want to try one of these haircuts, call or visit us at Total Image Hair Designs in Dunedin, Florida. We have everything you need to make you love your curly hair.